The V2 Supporter by It's You Babe pelvic floor support was designed by a medical professional for women who want to live active lives. The V2 Supporter relieves pain and pressure from vulvar varicosities, prolapsed bladder, pelvic floor dysfunction, and pelvic girdle pain. This non surgical solution looks a bit like a female version of a jock strap and compresses where the cup would be. It is adjustable to achieve customizable compression. Made in USA. Registered with the FDA. Recommended by pelvic floor therapists.

SUPPORT WHERE YOU NEED IT: Discreetly provides adjustable compression to relieve pain, pressure, and swelling from vulvar & labial varicosities, pubic swelling, pelvic organ prolapse (bladder and uterus), inguinal hernia, pelvic congestion and genital lymphedema.
POSTPARTUM SUPPORT SHORTENS HEALING: The It's You Babe V2 Support decreases swelling and improves healing of episiotomies and swelling after vaginal birth. The V2 Support holds and presses any cold pack next to the skin for improved cooling and comfort. Customizable compression leads to decreased healing time as it continues to reduce swelling and aid healing (after the cold pack has warmed to body temperature).
MEDICALLY DESIGNED – by Christine Seering, MSN, with over 20 years of experience in the field of pregnancy and related health. The V2 Supporter is clinically proven to provide effective support to decrease swelling and aid in healing
PELVIC SUPPORT: The V2 Supporter's patented design discreetly provides compression support to relieve pain from conditions such as vulvar varicosities, pubic swelling, prolapsed organ, inguinal hernia, pelvic congestion and genital lymphedema conditions.
CRAFTED FOR YOUR CARE: Hand tailored with care for pregnancy, and common medical conditions. Continue living an active life with our V2 support belt – it is fully adjustable for maximum comfort and support.
EASY TO WEAR: Slip the V2 maternity support belt on in the morning, adjust the maternity belt and enjoy the rest of your day.
DOCTOR RECOMMENDED: Doctors, midwives, nurses and pelvic floor therapists recommend the V2 Supporter to provide maternity compression therapy for most vulvar related conditions and for pelvic floor support.
DISCREET: Brace can be worn under clothing for pelvic floor support with minimal lines showing. Slip into the brace, adjust the 2 bands, and experience relief from pain and swelling. The V2 Support straps may be more pronounced when wearing tight fitting clothing.
MADE IN USA – The V2 is made in Michigan, USA by It's You Babe, owned and operated in America. Manufactured using high quality materials and hypoallergenic latex free elastics. Our quality assurance means your V2 has been manufactured to meet the highest standards.
V2 Supporter
It's You Babe is the FDA Registered, medical device manufacturer of the V2 Support compression therapy undergarment designed to alleviate discomfort due to vulvar varicosities or prolapsed bladder/uterus. The feeling of "everything is going to fall out the bottom" can occur for many reasons; whatever the reason the V2 Support is designed to keep you active and on the go.
The V2 Support is a hand-tailored support that provides compression therapy to the pubic area. Wear the V2 Supporter to comfortably alleviate pain, pressure and burning sensations caused by prolapse and swelling. By putting on the V2 Supporter before rising in the morning, swelling and "popping out" of a prolapsed organ and vulvar veins can be "put on hold!" In addition, the V2 Support applies pressure to reduce or restrict swelling and edema in the pubic regi
During pregnancy, blood volume increases by almost 50% by the third trimester. It is a possibility that this increase in blood flow, coupled with naturally higher levels of estrogen and progesterone, along with the weight of a heavy uterus can create added pressure inside veins with weakened walls causing the veins to become distended (when they "pop out"); creating vulvar varicosities (or varicose veins in the genital area).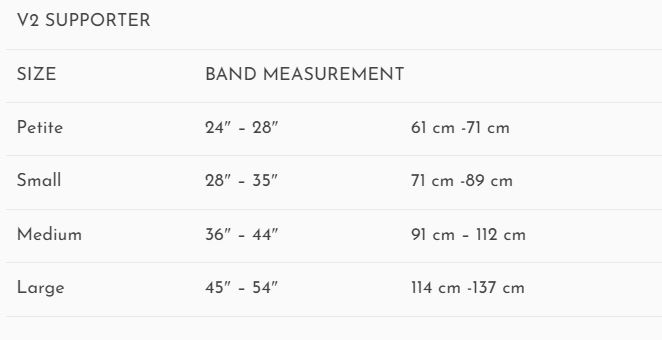 Related Products
Tags: V2 Supporter Cradle